This news is from West Holland Foreign Investment Agncy

YaBand Telecom B.V. is a Chinese originated, unique and well-known telecommunication company with strong and powerful technical support behind it. It provides premium voice quality for Prepaid Calling card users and high-level telecom services for leading global companies. In 2003, YaBand was incorporated in Hong Kong having started in the wholesale VoIP (Voice over Internet Protocol) market. In the eleven years of its growth and development, it has built more than 200 partnerships with main operators such as IBasis, Lebara, T-System, KDDI and TATA. Furthermore, YaBand has acquired many more local internet service providers in North America, Asia, Europe and Africa.In order to explore the retail voice market of Europe, in 2012 Yaband established a wholly-owned subsidiary in Rijswijk, The Netherlands to serve as its European headquarter.
Currently YaBand owns six soft-switch centers, high-performance servers and stable networks directly connected with China Telecom IDC, China Unicom IDC, Dallas IDC, Amsterdam IDC, Singapore IDC and the Cambodia telecom network switching center. The employees of the YaBand Support team all have completed university degrees or higher to ensure that Yaband is able to provide excellent service quality for its partners. The professional research strength and technical support teams have enabled Yaband to advance rapidly. Nowadays, it is servicing more than one hundred million calls monthly and providing hundreds of global partners with communication support. Relying on the 24/7 uninterrupted services, Yaband is aiming for business connections and cooperation around the world.
In the near future, it is targeting to push forward the private communication smartphone APP YCall allowing individuals to call via Internet Protocol on their smartphones, particularly useful for Chinese living overseas. Due to competitive charges, unparalleled voice quality and personal customization, the company aims for this to be the first choice for its customers.
Why Yaband chose the Netherlands?
"The Netherlands is renowned for super-speed and stable networks connecting Europe and Asian, which meant we were able to find soft switches here and thus offer better Asian-Europe communication services for our clients. Moreover, the good political, social environment, plus the favorable tax situation and predominance of English, further facilitated us in being able to provide premium services and expand business."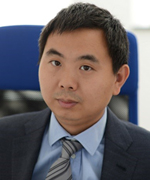 Haibo Feng,CEO,YaBandTelecomB.V.
Laan van Vredenord 33
2289 Rijswijk
Phone:+31 70 390 4586
Email:nano@yaband.com
www.yaband.com
[17-07-2014]